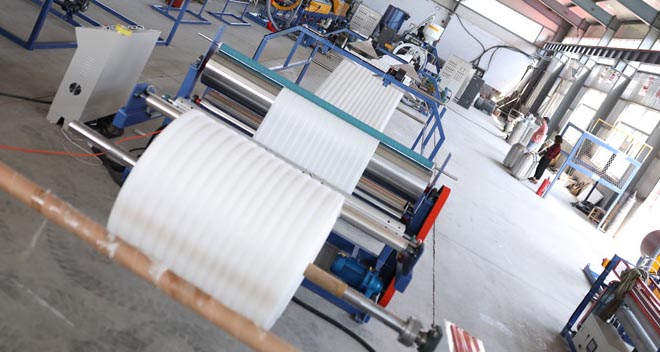 The raw material used in EPE foaming production line is:1、LDPE 2、Butane(the foaming agent) 3、Monostearin 4、The other auxiliary material. The specific technical process includes: Auto feeding device, foaming, extruding, sizing, cooling, flatten, winding, ready products.

The specific working process of EPE foaming mechanical equipment is: melting LDPE firstly, mixing butagas 、talcum powder、anti-shrinking agent and other agents, fusing and milling them through extruder, at the same time, feeding the foaming gas and molten monostearin, mixing with the plastic material, then through the extruder to be molding , and following to size the sheet through the finalize circle, finally, the ready products will be foamed sheet by the roller to roll.

The craftsman spirit of professional, absorption and specialization, from the set up in 2003 until now, we specialized in EPE foaming machine and its ancillary equipment, and we always humbly accept the rationalization proposal of customer's, under the constantly development, improvement and innovation of technical staff, our EPE foam sheet making machine far ahead of the counterparts.